Based on the emails we receive, along with comments on our survey, here are the most frequently asked questions. If you have have a question not covered below, please contact us at info@hommemystere.com
I want to pay with a credit card but you only accept PayPal?
PayPal offers both yourself and HommeMystere with security and a globally recognized payment system.
NO PAYPAL ACCOUNT NEEDED
To pay by credit card in 3 easy steps. Also see screen shots below (clickable).
Under "How Would You Like to Pay" option, choose PayPal and Credit/Debit Cards,
Click on Pay with a Card at the bottom,
Complete your card details in the PayPal Guest Checkout page.
Your statement transaction will read 'HMAUSTRALIA'.
Australian customers can also pay via direct deposit or Money order.
Please contact us at info@hommemystere.com if you have any questions.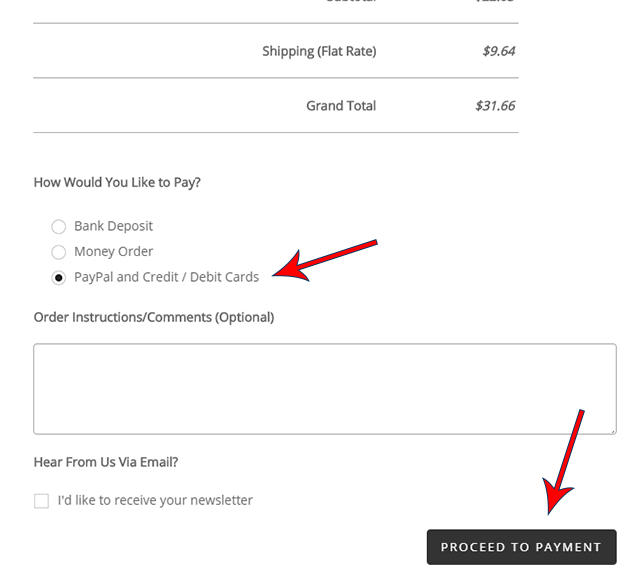 The Shipping costs for International Orders are not clear
A. Customers with a Shipping Address in Australia are charged USD $7.00, United States are charged USD $9.00. Customers elsewhere (UK, Canada, France, Japan, Italy etc) are charged USD $14.00 per order. Please check our Shipping Page for more information.
What if I am not happy with my purchase? Can I return the garments?
A. Absolutely! Let us know the problem before you return the garments. We will replace the item, provide a refund (less shipping charges) or give you a store credit if you have an account. But please let us know within 7 days of receiving the order. For more information, please visit our Shipping Page.
Why should I buy from you?
A. We share your love of lingerie and understand what you desire. We provide a personal service with advice on sizing, fit, shipping and more as requested. Our garments are designed to ensure a perfect fit for your bodyshape. You have 'peace of mind' money back guarantee on all our garments. We respect you as a customer, but more importantly, as an individual that chooses HommeMystere to provide you with the highest quality mens lingerie on the market. We've been doing this now since 2009 and know what we're doing. Give us a try and you won't be disappointed.
You are so far away. I'm not sure about ordering from Australia
A. Over 90% of our orders are from overseas, with the much of those coming from the United States. All our shipping is done from Australia and it's very unusual to have an issue with deliveries. Please check individual product descriptions, our Shipping Page Alert area or email us if you would like further information. Tracking is available to most countries including the USA.
My order status is still showing as 'awaiting fulfillment' after 3 days.
A. Depending on your timezone and where your order is despatched from, public holidays etc. it may take a few days before your order status is updated to 'Shipped'. For example, an order placed on a Friday may not be despatched until a Monday. If you are unsure, please email us at info@hommemystere.com and we will advise you asap.
Your prices do not show in my currency
A. We have added a currency converter to the store. You can now view prices in AUD, USD, GBP, NZD and EUR. The currency converter is found at the top of our website on the left hand side. If you wish to view prices in another currency, please let us know and we will add it to the site. Note that prices are in USD by default.
Your sizes are not small enough / large enough for me
A. We try and cater to as broad a range of customers as possible, however it's impossible for us to have everything in every size. Based on the submissions in our survey, we try and cover (at a minimum) from 28 inch to 50 inch measurements. We are conservative in our sizes so if you not sure, send us an email with your measurements and we can see what we can do!
You should cater to your gay customers as well
A. We provide our lingerie for guys. We are not concerned if you are gay, straight, transgender, vegetarian, republican, anglican, martian or any other persuasion. We just design and manufacture attractive luxury underwear that will fit without crushing your package!
Can I send someone a Gift Certificate?
A. Yes! Just complete the form here.
I would like to see more choice
A. Us too! We are working on it but it does take time from idea to manufacture. We are trying to release a minimum of 6 to 10 new styles per annum and increasing that number as we grow. Subscribe to our Newsletter on the home page to stay up to date with what's happening, receive great offers and stay in touch with us.
Are you going to make the China Doll Bra and panty again?
A. OMG I can't tell you how many times I've been asked this and said 'No'. However I'm starting to waver and there is a chance I'll have a look at it in 2017 and see if it's a possibility of doing a run.
How do you decide what you are going to make next?
A. We look at what's popular within the store and look at new fabrics and colours to determine what samples to make for each range. We also receive substantial feedback from visitors on what they would like to see in the store, and this is taken into account when making decisions. You can gain an insight into what we like at the moment by visiting our Pinterest or Tumblr pages.